Happy New Year!
Well the longest fall in my memory has made a quick turn the past few weeks. The unusually warm weather in November and December kept us outside working on projects and doing clean-up. But this means we are way behind on office stuff like seed orders, taxes, field planning and the like. Luckily, like real winter is here so no excuses!
Giving a farmer in New England an extra month of warm, snow free weather is overwhelming. We didn't know what to do first or just how long the clear days would last. After we planted the garlic the second week of November we settled down and got organized. Kristin spent almost an entire week flail mowing pasture and hay land, knocking down dead growth that will keep next years hay clean and high
quality while I tore out the rotting wooden side boards and end wall of our seedling greenhouse and replaced them with new lumber. I also stained and prepped some beautiful pine to finally (after 12 years) finish out the inside of the CSA barn. Add to this a few days of barn clean out, massive potting soil delivery, some machinery repair and the month of December went by very quickly.
The Time to Jump in is Now…
Thank you for joining us for another season of organic produce!  We have had a record number sign ups so far for 2016.  Memberships that come in during the winter help us save money and time by allowing us to make our orders of seeds, soil, and supplies early and and at a discount.  If you haven't signed up yet, please do. We will run out of shares!  You can go to a link on our website or  follow the links here for Brunswick or Delivered shares.
Payment Plan February Payment Due
On that note, it is also time for February payments for those of you on our winter payment plan. For on-farm Brunswick members this payment is $155. For delivered share members this payment is $85. Here's a link to our payment form but you can also find it on our website (green "make a payment" button on the right). Remember you will need your member number to make a payment (look for the confirmation email that followed your deposit in the fall). If you have paid in full we thank you!
Real Men Don't Eat…
We know you've been wondering what Tom, Gisele, and their kids eat.  For those of you who missed this short article, they are huge fans of organic vegetables…I mean if Tom and Gisele are doing it, it must be good. Pat yourselves on your back, we are on to something here folks. Go Pats!
Big Changes…
After eleven years we decided this fall to sell off our sheep flock. While we loved these animals and will miss them on a daily basis we came to the conclusion that we needed more time for family. This is especially true in the winter months when daily care and lambing during subzero temps and frequent blizzards could often take the entire day (and night). Like all changes on the farm it will take an entire season to make and understand but for now we are enjoying some extra time. More than half of our flock went to Kris Coleman's farm in Yarmouth and we hope to be able to continue offer her lamb for sale starting this fall.
Not having sheep on the farm will mean a couple of major changes to the farm's production systems.  For one, without animals to harvest the grass from our pastures we will be cutting a lot more hay and silage to sell.  We are looking for new customers for these products. Another concern is on the other end (pun intended) of sheep — manure. We have leaned heavily on 30-40 yards of compost made from sheep bedding each winter and another 100 yards of raw manure these animals would leave on the pastures. The fertility of the farm has been built around having animals and we are now having to adapt to new systems without them. A big part of our new plan is the relationship we have with local breweries Maine Beer Company and Allagash Brewing Company.  Both of them provide us with various waste products from the brewing process that include grain, yeast, and hops. We have been experimenting with these products and believe that they, if used in combination with green fallow periods, can help us to continue the farm's growth in fertility.
Whats New in 2016
In addition to our popular egg and mushroom add-on shares we will also be offering a yogurt and cheese share from our friends at Wholesome Holmstead.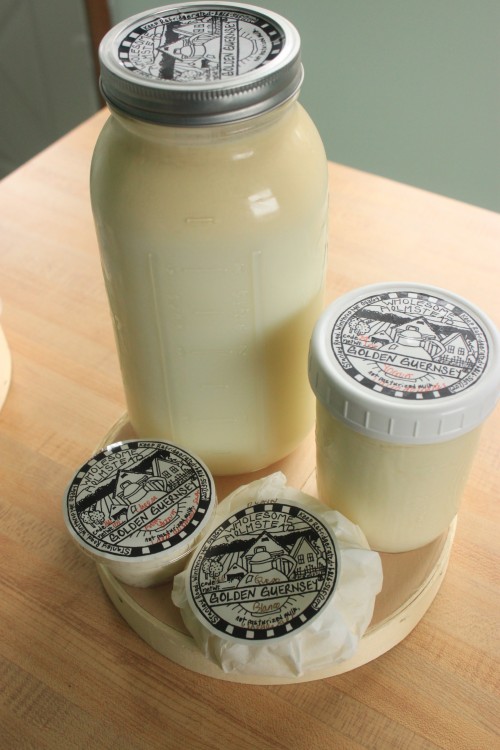 Incredible farmstead yogurt and an delectable line-up of cheeses that will rotate each week. This is the yogurt that we sold here at the end of last season to rave reviews.  We are working out the details now and will let you know when sign-ups are available!
We are also planning a late fall vegetable share. This will be every other week for the months of November and December with greens, squash and roots. This first year we are offering this as a Brunswick pick-up option but hope to offer delivery to Portland area in the future. Price and produce list to follow soon!
We are thrilled to have our assistant manager Kristin returning for another season with us.  She and I have been hard at work on the field plan for the coming year and have several new varieties of tomatoes, peppers, flowers, squash, asian choi/greens and cabbage to grow for you this year.  Each winter the process of looking over our harvest records, sifting through academic reviews, and reading multiple seed catalogs consumes us for weeks. I still remember lettuce varieties I grew in California twenty years ago (some of which I still grow in Maine). This process is still fun for me and when we boil down everything we do, selecting the varieties we grow is the most important.
Here's to spring and fresh produce!